Work on sewerage project starts in Raikot
Work started in presence of MP Dr Amar Singh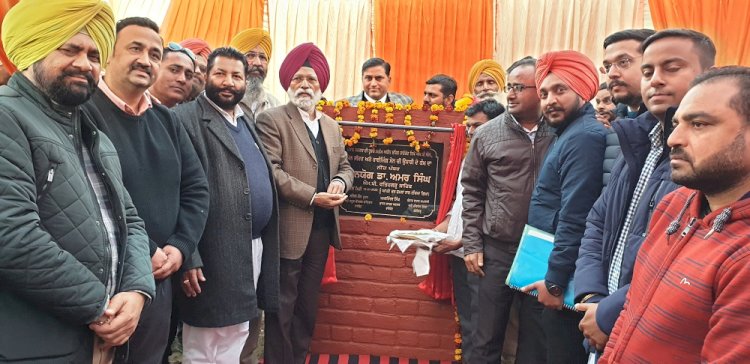 The foundation stone of the pumping station being laid by MP Dr Amar Singh, MP at Raikot in Ludhiana District.


Raikot (Ludhiana): Fatehgarh Sahib MP Dr Amar Singh today informed that several development works worth Rs 30 crore for Raikot would be carried out a phased manner that would bring much needed respite to the residents. These development projects are related to the Sewerage Board.
The foundation stone of the pumping station was laid by Dr Amar Singh, in the presence of SDM Dr Himanshu Gupta, Mr Kamil Boparai, Executive Engineer Mr JP Singh, EO Mr Amrinder Singh, besides several others, during a function held here today. Dr Amar Singh informed that this first phase Hudco project is worth Rs 2.92 crore and would be ready in next 9 months time.
He further informed that this project would be completed in three phases, that includes 750 meter main sewer line, 1790 rising main line and expansion of main pumping station. He informed that with the completion of this project, the sewerage capacity of the town would increase and the residents would be benefitted.
The Fatehgarh Sahib MP further stated that at present, the 25 kilometre sewer line is working in Raikot town, and sometimes, the residents face problems related to choked sewer line because this sewer line is old and has less capacity. He informed that on the completion of this project, the sewer water would be discharged in Kucha Kala Drain. He further stated that the work on constructing a sewerage treatment plant to treat the sewerage water is also being under process. He informed that the tendering process for this project has already been initiated.
He informed that today, the work on increasing the capacity of pumping station from existing 10 MLD to 25 MLD has been started. Besides this, 50 kilometre sewer line would also be laid in Raikot town, after which the problem of overflow and choking of sewerage water would be eradicated completely.
Dr Amar Singh also informed that work on installing LED streetlights in Raikot has also started, besides the facility of gas pipeline would also be provided to the residents shortly. He said that he is committed to develop Raikot as a model town and would fulfil all his promises made with the residents.
Prominent among those present on the occasion included Chairman Market Committee Mr Sukhpal Singh Gondwal, Vice Chairman Mr Sudarshan Joshi, besides several others.