Xmas tree lighting ceremony
Radisson Blu Hotel MBD Ludhiana hosted its Annual Christmas Tree Lighting Ceremony in the hotel lobby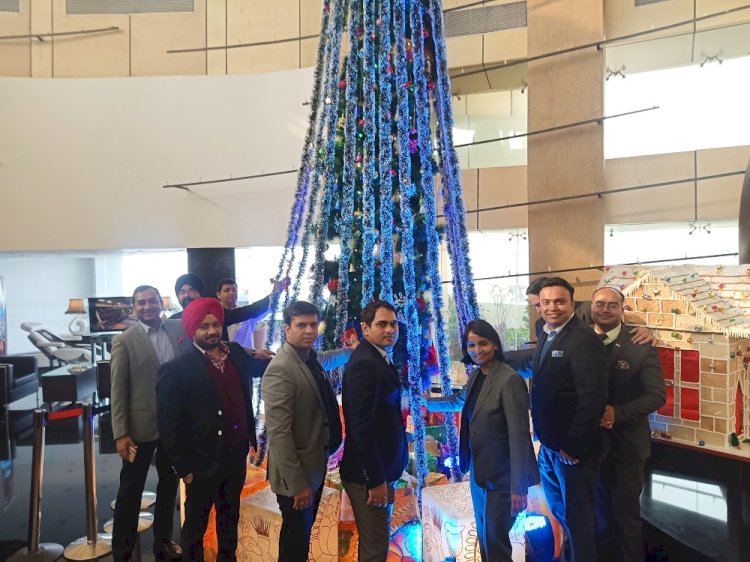 Ludhiana: Radisson Blu Hotel MBD Ludhiana hosted its Annual Christmas Tree Lighting Ceremony in the hotel lobby on Thursday to usher in the festive season. In-house guests and staff of the hotel shared the spirit of Christmas. The  artistically made 22 feet Christmas tree at the main lobby of hotel at fifth floor and 4 feet ginger bread house made with cookies and xmas goodies were the major attraction for the guests as it turned out be photo op place for the guests.
The Executive Chef Mohammad Asif   and Pastry Chef Amit Porwal have built a four-feet-high gingerbread house made with ginger bread cookies and xmas goodies, which is displayed at the lobby of the hotel. They said photos with this fairytale house will create a sweet Christmas memory for people of Ludhiana and our guests.
Guests were treated to delectable Christmas delights, such as Chocolate Santa, Plum cake, candies, Gingerbread Cookies and mulled wine as they immersed themselves in the festive spirit.
The evening kicked off with General Manager, Radisson Blu Hotel MBD Ludhiana Abhay Kumar welcoming the guests, followed by the entry of the evening's host and all enjoyed switching on the lights for Xmas tree . He said Santa will be there to treat guests on Xmas eve and xmas day. He also told that we have planned X mas special dinner on 24 th at All Day Brasserie Cafe Delish, Made in India (Indian specialty restaurant)  and Rare eastern dining R.E.D  restaurant offering oriental cuisine  and special Xmas brunch on 25 th at Café Delish.
He said people indulge in activities such as tree lighting, sing along Christmas carols, and much more and at the same time can experience in some of the most scrumptious food and delectable beverages that would surely take you on a gastronomical roller coaster at out hotel.