Youth Congress raised demand for NRU in Jalandhar
Stage protest in Model Town Market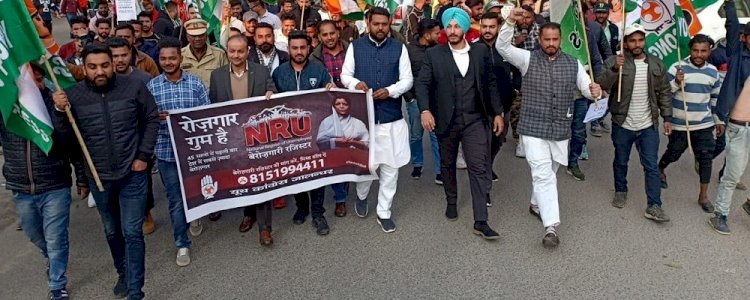 Jalandhar: Today Angad Dutta, President Youth Congress Jalandhar, Charanpreet Singh Channi General Secretary Youth Congress, Jalandhar along with workers of youth congress demanded that Central Government should launch National Register of Unemployed across the country instead of NRC AND CAA. Around more than 200 workers had started the march in Model Town Market and requested people to be the part of NRU campaign launched by Indian Youth Congress.
 
Angad Dutta said that unemployment rate has reached its highest point in 45 years while the Centre is busy trying to divert attention from grave issues like falling GDP growth by introducing the controversial law CAA. The Modi government had promised to create two crore jobs for youths, but on the contrary over 3.64 crore people have been RENDERED jobless during the BJP regime. The national register of Unemployed is more important than NRC and CAA. We want central government to prepare NRU not NRC.From 6.1% in 2017-2018, the unemployment rate increased to 7.5% at the end of 2019 with the number of unemployed people crossing the 30 million mark.
 
Charanpreet Singh Channi appealed to the youth of the Model Town Market to support our demand of NRU. He also requested we should spread this number to all the unemployed so that problems must be highlighted in order to counter the rate of the unemployment which is gradually decreasing.
 
Those who were presents were Rajinder Berri MLA, Rohan Sehgal Councillor, Randeep Sandhu President Jalandhar Cantt Youth Congress,  Parveen Kumar President Jalandhar Central Youth Congress, Jasskaran Sohi General Secretary Youth Congress Jalandhar, Abhishek Jain, Aman Dhanowali, Tejinder Singh Tejja, Sunny Narula, Ashish thakur, Rohit Pathak, Ram kumar, Harmeet Singh, Kaka Jairath, Sukhjeet Singh, Raja Gharu, Anmol Sober, Amit Sharma and many others.